COMIC-CON INTERNATIONAL 2016, SAN DIEGO
Once again, I'm going to be at SDCC, doing things. Below are the things. Also, the Tor Books will be giving away copies of California Bones #0, a comic book prequel to my Daniel Blackland trilogy. Come by Tor Booth 2707 to get yours.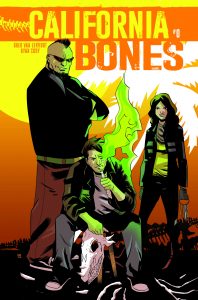 WEDNESDAY
Kevin Workman Foundation & Comickaze Present Preview Night Happy Hour Fundraiser (offsite)
Wed. 7/20/2016, 6pm – 9pm
Comickaze – Liberty Station – Barracks 15
2750 Historic Decatur Rd., Ste 101 – Barracks, San Diego, CA
(619) 363-0004
We're bringing a bit of Comic-Con to Liberty Station! So far we have Peter Clines (The Fold), Jason M. Hough (Zero World), Jonathan Maberry (The Orphan Army), Peter Orullian (Trial of Intentions), V.E. Victoria Schwab (A Gathering of Shadows), Scott Sigler (Alight), and Greg Van Eekhout (Dragon Coast) confirmed.
FRIDAY
Science Fiction/Future Now
4:30 pm – 5:30 pm, Room 26AB
Science fiction has ever been the muse of real-world advances, but now ideas can be achieved almost as soon as they are thought up. So how do writers, out-dream the dream makers? How do writers handle the truth of real science and the fiction that is needed for writing their stories? Is it a crisis for the writer's imagination? Or does it serve to inspire? Join Madeline Ashby (Company Town), Cecil Castellucci (Tin Star),Emily Lakdawalla (The Planetary Society), Javier Grillo-Marxuach (The 100), Sherri L Smith (Orleans), and Greg Van Eekhout (The Boy at the End of the World) in a roundtable discussion as they take this subject on.
Signing after the panel at 6:00 pm – 7:00 pm in the Sails Pavilion (Note: Javi won't be at the signing)
---
Past Events:
Tacos & Tecate: Dragon Coast bookstore appearances
Sept. 15, Borderlands Books
Sept. 19, Mysterious Galaxy
Phoenix Comic-Con
Tor Books Signing, Thursday, 2pm, Booth #2707
I think they're giving away books? Probably Pacific Fire or maybe advanced reader copies of Dragon Coast? Maybe swing by the booth and check?
Normalizing Publishing – Sunday, 12pm – 1pm, Room 32AB
Shonda Rhimes famously said that she's not "'diversifying' TV, she's normalizing it: "Making it look like the world looks." Join Sara Ryan (Bad Houses, Lambda Literary Emerging LGBTQ Writers Retreat instructor), Nilah Magruder (M.F.K., Dwayne McDuffie Award for Diversity recipient), Nicola Yoon(Everything Everything, We Need Diverse Books team member), Cindy Pon (Serpentine, We Need Diverse Books advisory committee, Diversity in YA co-founder), and Greg van Eekhout (California Bones, The Boy at the End of the World) discuss how this normalizing is, and isn't, happening and what we can all do to promote inclusive storytelling.

UCLA, Powell Library
Wednesday, May 20th, from 2-4 PM
I'll be talking and signing books and telling personal details from my life at my alma mater.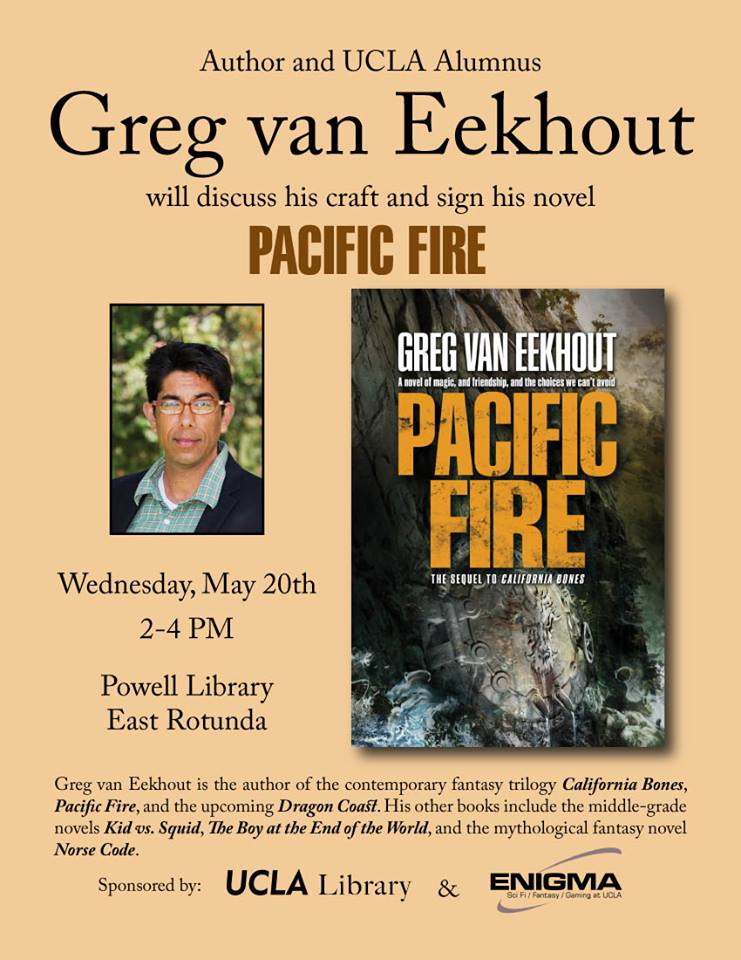 May 28 – 31

Los Angeles Times Festival of Books – April 19, 2015
11:00 AM New California Noir
Seeley G. Mudd (SGM 124) Signing Area 4 (Ticket required)
Conversation 2091
Moderator: Leslie S. Klinger
Panelists: Richard Kadrey, Kem Nunn, Greg van Eekhout
Signing at the Mysterious Galaxy Booth (#368) , Sunday 4/19, 1pm
WonderCon – April 3 – April 5, 2015
Anaheim Convention Center
Look for me at the WordFire booth (#1079), where bestselling author and good guy Kevin J. Anderson will be graciously letting me hang out to sign books and meet readers and stuff.
I'll be doing an additional signing at the Mysterious Galaxy booth (#908) on Saturday, April 4, 2pm – 2:45pm.
Also, I'll be on this panel:
Saturday, April 4, 11:30 – 12:30 Authors of Fantasy Fiction – The realm of fantasy fiction encompasses some of the most popular media properties today, from The Hobbit to Game of Thrones. What images come to mind when thinking of fantasy? Dragons, magic, and chivalrous knights? And what do authors writing fantasy fiction today think? What are fantasy's roots and where is it going?  Find out by joining bestselling authors Arwen Elys Dayton (Seeker), Todd McCaffrey (Dragonriders of Pern series), Naomi Novik (Temeraire series), and Greg Van Eekhout (California Bones) as they discuss works of fantasy fiction past, present, and future with moderator Maryelizabeth Hart of Mysterious Galaxy. Room: 208
Pacific Fire West Coast Book Tour
January 27, 7:30pm – Mysterious Galaxy, San Diego, CA
January 29, 6:30pm – Cellar Door Books, Riverside, CA
January 30, 7:00pm – Copperfield's Books, Petaluma, CA
January 31, 4:00pm  – University Book Store, Seattle, WA
San Diego Comic-Con 2014

Panel: When Magic & Myth Meet Main Street
Thursday July 24, 2014 3:00pm – 4:00pm
Room 25ABC
When stories mix modern cities like Paris, L.A., and New York with magic, myth, and demon spawn, they are collectively known as Urban Fantasy, and many of today's popular authors are adding their otherworldly ingredients to the melting pots of modern (and not-so-modern) society. Jim Butcher (Skin Game), Seanan McGuire(Sparrow Hill Road), Richard Kadrey (The Getaway God), Thomas Sniegoski (The Remy Chandler Series), Amber Benson (Calliope Reaper-Jones series), and Greg van Eekhout (California Bones) discuss why something old with something new equals gold. Moderated by Anton Strout (Incarnate).
Signing
Thursday July 24, 2014 4:30 – 5:30
Sails Pavilion, Table AA09
Signing
Saturday July 26, 2014 2:00 – 3:00
Tor Booth (#2707)
As far as I know Tor will be giving away copies of CALIFORNIA BONES during the hour.
Note: All Tor Booth signings are on a first come first serve basis and while supplies lasts. Limit one book per person.
California Bones – Tour
Yes, I am going on tour to celebrate/promote/beg you to buy California Bones. Five days, five cities. Maybe more than five showers. Hopefully more than five meals.
June 10, Tuesday, 7pm, Mysterious Galaxy, San Diego (Includes free pizza! Let me say that again: FREE PIZZA!!!)
June 11, Wednesday, 7pm, Borderlands, San Francisco
June 12, Thursday, 7pm, Copperfield's, Petaluma, CA
June 13, Friday, 7:30pm, Mysterious Galaxy, Los Angeles
June 14, Saturday, 3pm, University Bookstore, Seattle

Please show up. Please show up to all these appearances. Or, okay, just one will be fine.
WEDNESDAY October 17, 2012, 6-8pm
Barnes & Noble, Oceanside
Vista Magnet Middle School Fundraiser 
El Camino North Shopping Center, 2615 Vista Way, Oceanside, CA 92054, 760-529-0106
SATURDAY, November 10, 2pm-4:30pm
YA in the Sun
Encinitas Branch Library
540 Cornish Drive
Encinitas, CA 92024
760-753-7376
Celebrate Young Adult literature with local authors, fans, and friends.
Signings, raffles, activities, and more!
Authors include:
Josephine Angelini
Leigh Bardugo
Jennifer Bosworth
Jessica Brody
Debra Driza
Cynthia Hand
Nancy Holder
Kirsten Hubbard
Suzanne Lazear
Marie Lu
Sarah Maas
Gretchen McNeil
Shannon Messenger
Tone Milazzo
Cindy Pon
Andrew Smith
Barrie Summy
Greg Van Eekhout
Kiersten White
SUNDAY September 30, 2012
Orange County Children's Book Festival
Appearing on the Teen Stage, 10:30 AM
Signing from 10:45 to 11:30-ish at the Mysterious Galaxy booth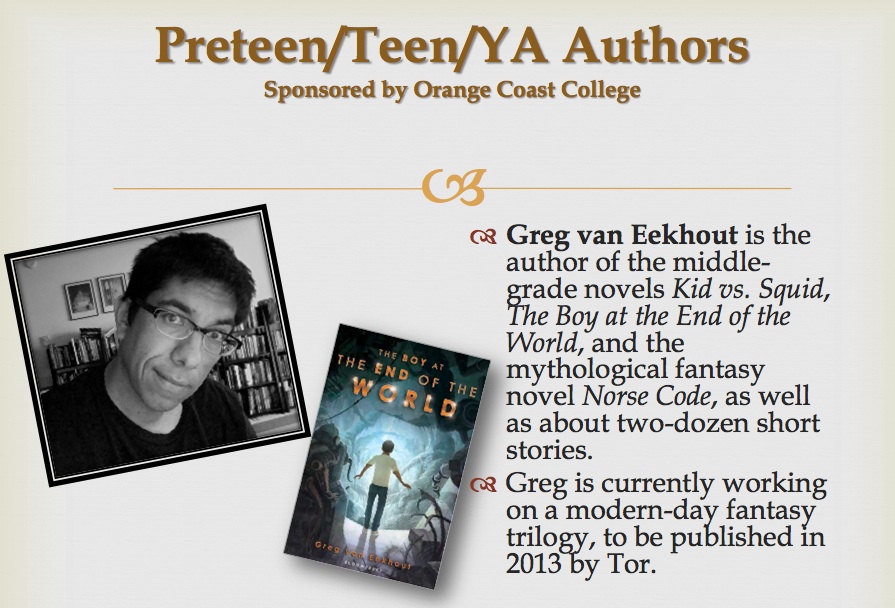 Phoenix Comicon
May 24 – May 27, 2012
FRIDAY March 16, 2012
32nd Children's Literature Conference, Northern Illinois University
FRIDAY December 2, 2011
Christa McAuliffe Elementary School (School visit)
FRIDAY December 2, 2011
Barnes & Noble, Oceanside
El Camino North Shopping Center
2615 Vista Way
Oceanside, CA 92054
760-529-0106
Details TBA
THURSDAY November 10, 2011
Helen Plum Library – Skype visit
SUNDAY October 30, 2011, 1pm – 4pm
The Why Chromosome: an author event and book signing for readers, writers, bloggers, and educators interested in middle grade and young adult literature. Our special focus will be on boys and encouraging their love of reading.
When: Sunday, October 30, 2011 – 1:00 – 4:00 pm
Where: Mrs. Nelson's Toy & Book Shop, 1030 Bonita Avenue, La Verne, CA 91750 | MAP
TEL (909) 599-4558 // email for info: bridgetobooks@gmail.com
What: $12.50 will provide one person food/drink and a swag bag. Excess funds will be donated to Book by Book.
Who will be there:
Andrew Smith (Stick & The Marbury Lens)
Allen Zadoff (My Life, The Theater, and Other Tragedies)
Jonathan Auxier (Peter Nimble and His Fantastic Eyes)
John Stephens (The Emerald Atlas)
G. Neri (Ghetto Cowboy)
Greg van Eekhout (Kid vs. Squid & The Boy at the End of the World)
THURSDAY October 27, 2011
Diversity in YA
with Holly Black, Cinda Chima, Malinda Lo, Cindy Pon
Poway Branch Library, 7pm
SUNDAY October 2, 2011
Orange County Children's Book Festival
Teen/YA stage, 10:00 AM
New In-Between Panel
Gitty Daneshvari (Moderator) – School of Fear Series
Greg Taylor – Killer Pizza Series
Helen Stringer – SpellBinder and Midnight Gate
Greg van Eekhout – Kid vs Squid and The Boy At The End Of The World
Mark Jeffreys – Max Quick

FRIDAY September 30
Casita Center for Science & Technology (school visit)
Vista, CA
FRIDAY September 30, 6pm – 8pm
Barnes & Noble, Oceanside
(Portion of store-wide sales during the signing will go to Casita Center for Science and Technology)
El Camino North Shopping Center
2615 Vista Way
Oceanside, CA 92054
760-529-0106
WEDNESDAY September 76:00 p.m. (PST)
Science Fiction and Fantasy Writers Chat
on Twitter
FRIDAY September 9 – SUNDAY September 11
Conjecture
TUESDAY August 16
3:30 EST
Let's Write Fantasy Workshop (via Skype)
Tompkins County Public Library
SUNDAY July 24
1:45 – 2:45
5AB
Writing For the Middle Grade Audience – engaging the reader at an important age. Writers discuss how to craft books that engage and delight readers who are too mature for early readers, but not yet ready to read young adult books. Authors include: Rebecca Moesta (the Crystal Doors series), Brandon Mull (Beyonders: A World Without Heroes), Matt Myklusch (A Jack Blank Adventure Series), John Stephens (The Books of Beginning), Nathan Bransford (Jacob Wonderbar series). Stephen McCranie (Mal and Chad), D.J. MacHale (the Pendragon series), EJ Altbacker (Shark Wars series), and Greg van Eekhout (The Boy at the End of the World). Moderated byMaryelizabeth Hart of Mysterious Galaxy.
SUNDAY July 24
3:00 p.m. – 4:00 p.m
AA8
Autographing in the Comic-Con Autograph Area
Signing:
The Yellow Book Road
June 23, 1:00pm
Signing:
Mysterious Galaxy Bookstore
June 25, 2pm
Teens & Tween Summer Reading
Signing along with Cynthia Hand (UNEARTHLY) and Timothy Power (THE BOY WHO HOWLED)
Speaking:
Santee Public Library
Lunch With Authors (appearing with Kirsten Hubbard, Cindy Pon, Barrie Summy)
July 5
12:00 – 1:00