Our bodies are cauldrons, and we become the magic we consume.
CALIFORNIA BONES, the first volume in a trilogy about magic, heists, and the unexpected things that change your life.
Read the first three chapters.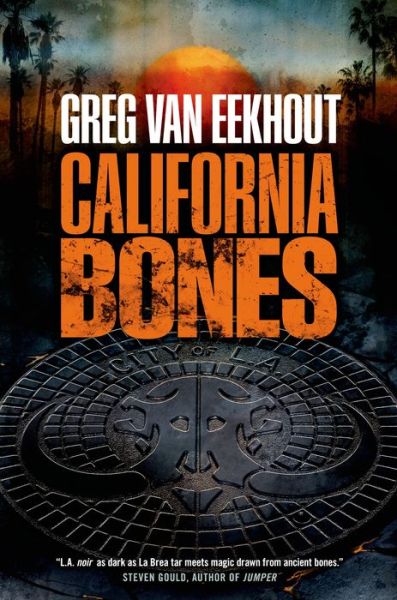 Come see me on my June tour!

BOOKLIST – Starred Review
"Daniel Blackland, a professional (if fairly small-time) thief, is hired by his uncle, a crime lord, to break into a supposedly impenetrable stronghold and steal something so rare, so important, that others will kill to get it back. Sound like a typical caper novel? Let's add in some details. Daniel is the son of a powerful magician who was killed many years ago by the Hierarch, the ruler of the Kingdom of Southern California, and the object he's trying to steal is a sword, made by Daniel's father, that possesses the magical essence of Daniel himself. This wonderfully imaginative story is set in an alternate-reality Los Angeles that will seem both familiar (the author mentions Topanga Canyon and Rhino Records) and weirdly unusual (the city has an elaborate canal system, like that in Venice, for example). In this world, the bones of magical creatures contain remnants of their powers; if you consume these ancient bones, or the bones of magical people living today, you acquire their magical properties (when the Hierarch killed Daniel's father, he, um, ate him). The story is structured like a caper novel, and fans of stories about heists will enjoy it, but its fantastical elements make it an absolute must for urban-fantasy readers, too."

LIBRARY JOURNAL – Starred Review
"In van Eekhout's first hardcover for adult readers, a combination of caper novel and urban fantasy packs a wallop. Daniel and his team banter even while up to their necks in danger, and the magic system in which eating the bones and flesh of creatures can grant you their power is unique and fascinating (if a little icky). Highly recommended."

RT REVIEW OF BOOKS – 4.5 Stars
"From the La Brea tar pits to the Santa Monica pier, (van) Eekhout creates a mischievous version of Los Angeles where magic and alchemy reign. Daniel Blackland is like Sandman Slim's friendlier younger cousin, tasked with finding a family heirloom, perfecting his magic and figuring out just exactly who he is. The first in a trilogy that also stands well on its own, California Bones is hilarious, touching and will leave readers craving an L.A. burrito, or five."
"I both love and am terrified by Greg van Eekhout's vision of Los Angeles. I already want to go back." John Scalzi
"L.A. noir as dark as La Brea tar meets magic drawn from ancient bones." Steven Gould
"Great story, great characters, and a truly cool/creepy alternate Los Angeles built on magic, blood, and bone. This toom me to places I didn't expect. I like books that do that. You'll like this, too." Steven Brust
"It's got subterranean halls with pillars of bones, a magic sword, magical duels, and some of the coolest bone magic ever, but that's all interwoven with the taste of an L.A. burrito, the concrete waterways of Los Angeles, and the neon glow of the Ferris wheel on the Santa Monica Pier: van Eekhout has written a twenty-first century alchemy." Maureen McHugh
Publisher's Description:
When Daniel Blackland was six, he ingested his first bone fragment, a bit of kraken spine plucked out of the sand during a visit with his demanding, brilliant, and powerful magician father, Sebastian.

When Daniel was twelve, he watched Sebastian die at the hands of the Hierarch of Southern California, devoured for the heightened magic layered deep within his bones.

Now, years later, Daniel is a petty thief with a forged identity. Hiding amid the crowds in Los Angeles—the capital of the Kingdom of Southern California—Daniel is trying to go straight. But his crime-boss uncle has a heist he wants Daniel to perform: break into the Hierarch's storehouse of magical artifacts and retrieve Sebastian's sword, an object of untold power. 

For this dangerous mission, Daniel will need a team he can rely on, so he brings in his closest friends from his years in the criminal world. There's Moth, who can take a bullet and heal in mere minutes. Jo Alverado, illusionist. The multitalented Cassandra, Daniel's ex. And, new to them all, the enigmatic, knowledgeable Emma, with her British accent and her own grudge against the powers-that-be. The stakes are high, and the stage is set for a showdown that might just break the magic that protects a long-corrupt regime.

Extravagant and yet moving, Greg van Eekhout's California Bones is an epic adventure set in a city of canals and secrets and casual brutality–different from the world we know, yet familiar and true.
"The story is structured like a caper novel, and fans of stories about heists will enjoy it, but its fantastical elements make it an absolute must for urban fantasy r