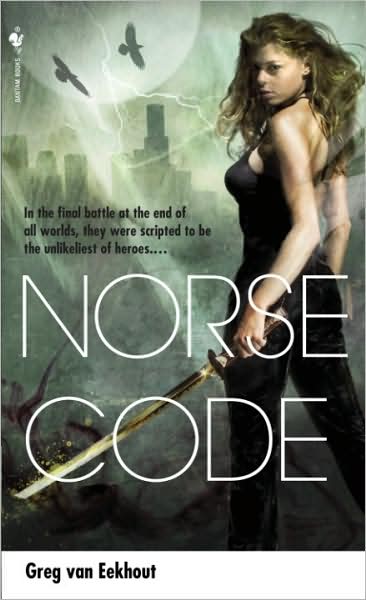 Praise for Norse Code:
From Publishers Weekly
Short story author van Eekhout makes a successful leap to long fiction with this thrilling urban fantasy. As human civilizations crumble, Valkyries prepare for Ragnarok by using DNA testing to select perfect warriors for their army of the dead. Resurrected NorseCODE operative Mist loses faith in the project after a tragic accident, and she goes AWOL. After Mist encounters the near-forgotten god Hermod as he investigates portents of doom along the California coastline, the two journey into the afterlife of Helheim, where they make some unexpected allies. With deities scheming and ancient prophecies coming true, can a reluctant Valkyrie and a world-weary god prevent the apocalypse? The compelling prose and epic blend of mythological and modern elements make it clear that van Eekhout is an author to watch. (June)
Copyright © Reed Business Information, a division of Reed Elsevier Inc. All rights reserved.
"Norse Code is a clever, witty reimagining of one of our enduring myths in a world of Southern California baristas and shopping malls: Ragnarok at Malibu, with wandering gods, thoughtful monsters, high tech Valkyries and world-spanning catastrophes. Van Eekhout demonstrates his well-deserved reputation as a masterful short fiction stylist on a much larger canvas—one that stretches from the frozen basements of hell to the depths of black infinity, without ever losing his focus on the human and the humane. A satisfying read that taps the vein of our oldest legends in the most modern way possible."—Jay Lake, author of Escapement

"Greg van Eekhout combines the thrills of gods and monsters with the chills of endless winter in this inventive and mythic modern fantasy. Neil Gaiman fans take note!"—Tim Pratt, author of The Strange Adventures of Rangergirl

"Van Eekhout plays with Norse mythology like he invented it. This is a really fun read, with plenty of cool bits to chew over after putting it down. I like this book a lot." — Steven Brust, author of Jhegaala
"Norse Code has bone crunching battles, ironic ravens, a resistance movement of dead Iowans, a great loner hero redeemed by the love of a spunky valkyrie in California during the apocalypse, and lots of wit. If that doesn't sound like fun to you, all I can say is, well, I'm sorry. Cause it is."—Maureen McHugh, author of China Mountain Zhang
"A renegade valkyrie and a runaway god team up to stop the apocalypse in a book filled with battles and betrayals, love and hope.  If the world ends tomorrow, you can't do anything better than read Greg van Eekhout's Norse Code.  But don't blame me if you end up joining the resistance.  I love this book."–C. C. Finlay, author of The Patriot Witch